View articles published in: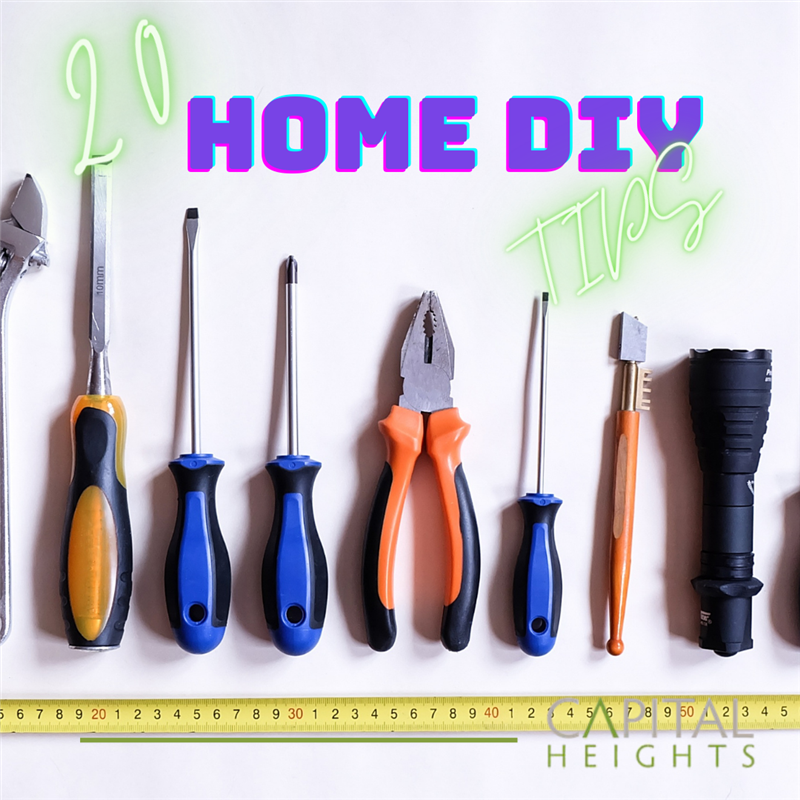 Published: 05/10/2020   Last Updated: 05/10/2020 12:18:26   Author: Deepak Bhopal    Tags: Homes., DIY, Tips, Property, Decorate, Paint, Curtains, Lettings Agent, Estate Agents
Remove small scratches on furniture with toothpaste.

We all hate small scratches that appear on our furniture. The solution for many is to spend money on buying products that may help or send the furniture to a professional to repair or even go as far as replacing it altogether. Try using a peas sized amount of regular toothpaste and apply it to the scratch in a circular motion. Once applied clean the surface with a damp towel. Ta da!
Use a hairdryer to get crayon marks off the walls.

Kids love crayons, we like giving them crayons to get creative. Inevitably the little angels are going to somehow draw on the walls. If this happens simply heat the area that has crayon marks with a hairdryer for a few seconds. This allows it to soften the crayon wax and then wipe any marks away with a soft clean cloth.
Rub those marks away on a ceramic cooker with a rubber.

Ceramic cooktops may seem like a convenient alternative to gas ranges, but they're not always easier to clean. An item lying in the deep dark parts of your draws can be the solution. Yes, a rubber. Rub the area with your rubber and then wipe excess marks away with a warm damp cloth.
Add new door knobs

We have seen so may doors that jst make the property look so ugly. You can paint them but there is something missing. You got it, the door knobs. Get a screwdriver, your new door knob and get online and find a video to help you. You just saved probably £75 to £100 on labour costs, depending on how may door knobs you change.
Cover Up an Old Appliance

Appliances still work but they look ugly as hell? Why not just get some vinyl with a lovely design and wrap the front. This can spruce up any appliance and bring life back to your kitchen.
Cover up your shelves

We all need storage in our homes. No matter how much space you create or shelves you install, they always get full and don't look nice because of the clutter. Why not add curtains to the front of your storage shelves. This way you can have a nice-looking cover that compliments the room and you hide all of the things you have collected over the years.
Painted pots
We are a green bunch and like to have plants in the house and also in our gardens. Finding pots that are different is always a challenge and we end buying grey, beige, black, white clay pots. Buy some paint and paint your clay pots to bring some character.
Painted vinyl floor
Vinyl floors can be ghastly to look at but serve a great purpose. They keep your floors easy to maintain and protect the flooring underneath it. If you don't want to replace them then add some colour to the floors by painting it. Try adding some stripes to the edges of rooms or a feature in the centre.
Add more mirrors

Do you want your rooms or home to look more spacious? Adding mirrors are strategic places around the home can give the sense of a bigger area. Also think of decorating your mirrors with paint to add some character. Here are some tips from Spruce on where to place mirrors around your home.
Window decoration

If you have a window that doesn't require curtains, consider accenting it with metal brackets. These ones are actually shelf brackets. However, they fit the window frame perfectly.
Cabinet buckets
Create some additional storage space inside cabinets by attaching buckets to the door. The ones in the picture are simple little buckets normally used for holding utensils.
Add a frame around your TV

Adding a tv to a room is always dependant on where you are ging to place the sofa. The area where the tv goes than gets neglected and remains as a bare wall. Add a frame around your tv and then add other pictures surrounding it.
Door Wallpaper

You have changed the door knobs but the doors are still looking unattractive to you. Add some wallpaper to the doors to give them a new look. You can get a variety of wallpapers such as textured, fabric, vinyl and so on. Get exploring.
Add a Bed Canopy

Whether it a single bed in your daughters room or your double bed, adding a canopy make the bedroom look grand. Adding curtain rails on the ceiling is a very simple way of achieving a beautiful look. Curtains around your bed can make the areas cozy and also help block out the sunlight in the morning.
Paint your fridge

Give a worn-out refrigerator new life by covering it in vinyl tape. The tape is more durable than masking tape and often comes in various colours and patterns. If you are feeling really bold, you can use spray paint.
Painted Ceilings

Here's a whacky idea, paint your ceiling a different colour than white. Actually, adding a dark colour to the ceilings can make the room feel more spacious. The ceiling will look much higher, especially if you paint down the walls a few feet as well. It's a great hack for adding depth.
Coloured Door Edge
We never would have thought of adding colour to the edge of a door, however, it's a fantastic idea. Not only is it fun, but it also makes the door more noticeable when it is open so you don't accidentally bump into it.
Floating Bookcase

We always add book cases in areas that take ups pace we could be using. Why not use corners next to doors to tuck away a small book shelf. You get your storage and use a space that will never get used.
Pull-out Food Shelf
Most people would never think to use the space behind the fridge. There is not much that can fit back there. However, you can make a pull-out food shelf to put behind it. Its MAGIC!
Thanks for reading!!!
Show More Articles